AC Cleaning for Residents in Tampa, Carrollwood & Beyond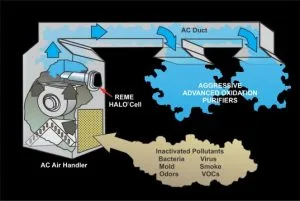 When you want improved indoor air quality, you want to schedule an AC cleaning service from a reputable, local company who will do the job right. Bruce Jones Air Conditioning & Heating specializes in air purification, as well as a wide range of other vital HVAC services that are designed to keep you comfortable year 'round.
Call us today to learn more about our AC cleaning services and other air purification products and options!
AC Cleaning for Better, Fresher Indoor Air
In addition to standard system cleaning services that you'll find with other local A/C companies, we offer innovative, state-of-the-art air purification solutions that are designed and manufactured to help ensure your family breathes the freshest and cleanest air possible.
One of our favorite options is the award-winning REME HALO®, which is a whole-home, in-duct air purifier that is capable of purifying every inch of air that your central AC reaches.
Eliminates Sick Building Syndrome Risks
Reduces Air Pollutants
Mimics Nature's Process of Purifying Air
Effective Against Particulates, Microbials & Gases
Reduces Allergy Triggers
Reduces Airborne & Surface Bacteria & Viruses
At Bruce Jones Air Conditioning & Heating, we take your air quality seriously and only bring you the products that we know will help you and your family. For more information about any of our AC purification and cleaning services, speak to one of our friendly and knowledgeable team members today!
Bruce Jones Air Conditioning & Heating has been serving Central Florida homeowners for years and has hundreds of satisfied customers in Tampa, Carrollwood, Plant City, Brandon, Riverview, Lutz, Seffner, Bloomingdale, New Tampa, and the surrounding regions. If you are looking for AC cleaning services or any other heating and cooling repair or service needs, contact us today! With Bruce Jones Air Conditioning & Heating, you'll always get honest feedback, competitive rates, and thorough service.