New AC System for Those in Tampa, Plant City, Brandon, Bloomingdale, Valrico & Nearby Cities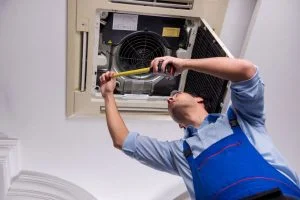 No one wants his or her AC to break down in the middle of a heat wave. While you may not want to spend the money on a new AC system, there are some indications that you will need to soon.
Common Signs You Need a New AC System
Air conditioning service and maintenance can be overlooked, but there are some common signs that you need a RUUD AC system from Bruce Jones Air Conditioning & Heating.
Lack of Cool Air or Limited Airflow: This can be the most common sign. If you turn on the unit and air isn't coming out cold, then there is a good chance it isn't performing properly. The issue could be a clog in the ductwork, but the problem will need to be dealt with by a professional.
Buildup of Moisture: Every AC system will create moisture, but systems that are working correctly will be able to handle most moisture without any issues. When there is moisture present, it could mean a leak is occurring. This can cause the system to underperform and also pose a health risk. Even if it is just water and not refrigerant, it can be a breeding ground for mold.
Strange Noises: If you have noticed that your AC is noisier than it used to be and there are strange noises such as chattering, squeaking, and grinding, your system is not performing as it should. These sounds aren't just the result of aging. Most units will operate at a noise level that isn't detectable, so if you hear noises, it's time to upgrade equipment.
Foul Smells: Similar to strange noises, if you notice foul smells, this can indicate a problem with the system. Your AC unit should be putting out clean, natural smelling air, and when it isn't, this means a problem exists. A burning or smoky smell could indicate a serious problem that requires immediate attention.
Higher Energy Bills: If energy bills have been more expensive lately, it could have something to do with your AC unit. Upgrading the equipment can reduce energy bills for years.
If you need a new AC system or air conditioning service, the experts at Bruce Jones Air Conditioning & Heating are here to help. HVAC financing options are available for qualified customers in Tampa, Plant City, New Tampa, Brandon, Bloomingdale, Valrico, and nearby cities. Contact us today.