American Standard Central Air Conditioners for Consistent Comfort & Energy Efficiency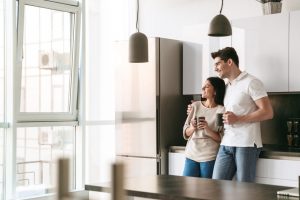 If you are in the market for a new HVAC system for your home or small business, American Standard central air conditioners might be just what you are looking for. American Standard has award-winning products, and for over 100 years, they have helped achieve a higher industry standard for AC system brands. They are constantly delivering innovation and excellence with their AC equipment.
Bruce Jones Air Conditioning & Heating is proud to be an American Standard Customer Care Dealer, chosen for our commitment to customer satisfaction and track record of superior workmanship and timely service. We can help you determine which American Standard air conditioners will work best for your family or business, and we can offer you top-quality installation and support.
Call now for more information!
How to Choose Which American Standard Central Air Conditioners Are Best for You
All American Standard equipment is designed to keep you comfortable and are tested under extreme conditions to ensure performance and reliability. That doesn't mean, though, that there aren't substantial differences between models and options. From variable and single speed options to models with 14.5 to 22 SEER, it can become difficult to know which model is best for you.
At Bruce Jones Air Conditioning & Heating, our experienced technicians can help guide you towards the equipment that will best meet your needs. We can help you determine your budget, as well as what you need most in your new HVAC, and pinpoint the exact model that fits your budget and preferences.
We can also help qualified customers secure financing through our flexible financing options. Apply today to learn if you can increase your purchasing power and help offset the cost of your new AC.
If you live in Tampa, Lutz, Wesley Chapel, Bloomingdale, New Tampa, or any of the surrounding regions and are interested in learning more about American Standard central air conditioning, contact us today for assistance. We can provide sales, service, installations, and repairs for all American Standard models.