American Standard Central Air Conditioning Systems & Equipment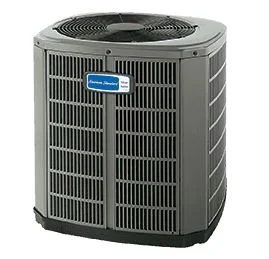 Bruce Jones Air Conditioning & Heating is proud to offer residential and commercial customers American Standard central AC systems and equipment at great rates. We are an American Standard Customer Care Dealer that has decades of industry experience, and our team of licensed and qualified technicians can help you replace or care for your AC system from beginning to end. We offer installations, repairs, maintenance, and more to ensure that your heating and cooling needs are always taken care of by experts, and we look forward to serving you.
Call now to speak to our team or schedule service!
Why Choose American Standard Central Air Conditioning Systems?
American Standard Heating & Air Conditioning systems are specially designed to increase comfort and improve air quality. Their products work efficiently to remove up to 99.98% of the allergens that enter your system to ensure that you - and your family, employees, guests, and loved ones - keep breathing clean, fresh air. For over 100 years, American Standard equipment has worked smarter – not harder - to keep you comfortable, and we're confident there's an American Standard system that's right for you.
Need to schedule service and repairs? Not a problem. The Bruce Jones Air Conditioning & Heating team can dispatch a skilled and insured technician to your home or office any day of the week, and we offer comprehensive services at exceptional prices. Schedule your service today!
Our Team Offers Custom Solutions for Your Heating & Cooling Needs
Bruce Jones Air Conditioning & Heating is one of the highest rated American Standard air conditioning dealers for customers in Tampa, Riverview, Apollo Beach, Bloomingdale, Plant City, and the surrounding regions throughout Central Florida, and we can offer your family or business every service you could need to keep comfortable year in and year out. Contact us today for assistance!