Thermostat Repair for Homes & Businesses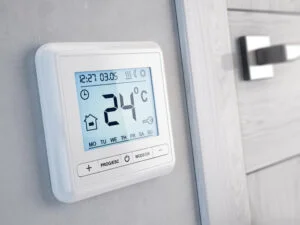 Bruce Jones Air Conditioning & Heating can take on all your heating and cooling jobs - from the quickest and easiest tasks to the most complex. While we provide a broad range of complex services, we can also complete those small jobs that other companies don't want to take on. If all you need is a thermostat repair, we'll send a technician out to your home or business to troubleshoot the issue and repair or replace your thermostat on that first visit.
Call today to schedule your appointment!
Thermostat Repair & Replacement
When your thermostats aren't working, there could be many causes. If it's battery operated, it might simply require a quick switch to new batteries. If it's wired, it could due to wiring issues, electrical panel issues, or connection issues. Sometimes, it has nothing to do with the thermostat at all and is really a sign of a deeper problem with the AC system itself. Other times, the thermostat itself is just past its prime and needs to be replaced.
At Bruce Jones Air Conditioning & Heating, we have a team of technicians that can diagnose your thermostat issues correctly to provide you with the best possible solution. We'll inspect the thermostat to determine where the trouble lies and provide you with our recommendations to fix the problem. If your thermostat needs to be replaced, we will come equipped with replacement options so that you can get it switched out immediately, and if it's due to wiring or deeper system issues, our skilled technicians can complete those repairs on the spot.
Schedule your service today!
Thermostats & Other AC System Services
Bruce Jones Air Conditioning & Heating can provide you with thermostat repair or any other HVAC service you could need. We are one of the region's leading AC and heating repairman, and we offer service to customers in Tampa, Valrico, Riverview, Seffner, Sun City, and beyond. Contact us today!