We Service HVAC Systems Across Tampa Bay & Beyond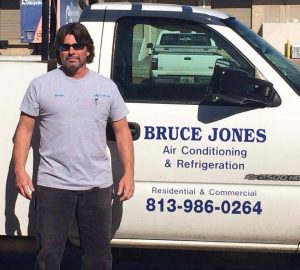 Bruce Jones Air Conditioning & Heating can service HVAC systems made by any manufacturer. We work with home and business owners throughout the Tampa Bay region and beyond to help them keep their AC systems running smoothly and efficiently year 'round.
Call today to schedule service!
We Service HVAC Systems Quickly & Affordably
At Bruce Jones Air Conditioning & Heating, we know that time is money – and money is money. That's why we work quickly to deliver comprehensive solutions and same-day service on your AC system and do it all for an affordable and competitive price. We understand that our customers are busy, and we aim to provide timely, professional service on every call. And for most customers, price does matter, so we do our best to always offer our top-quality services for competitive and affordable rates.
We have a complete air conditioner service offering, which includes:
Bruce Jones Air Conditioning & Heating has proudly served Tampa, Plant City, Brandon, Carrollwood, Sun City, and the surrounding areas for years, and we look forward to service you. If you need a reputable company to service HVAC systems at your home or business, contact us today!