Air Conditioner Service Throughout Tampa Bay & Beyond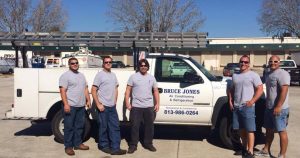 Bruce Jones Air Conditioning & Heating provides top-rated air conditioner service, repairs, and installations to home and business owners throughout Tampa Bay and beyond. We can repair HVAC systems from any manufacturer and can quickly dispatch a technician to your door.
Call today to schedule your service!
Any Air Conditioner Service or Support You Could Need
At Bruce Jones Air Conditioning & Heating, we are proud to offer our customers a full range of services to ensure that all of their heating and cooling needs can be met by our highly-skilled team. We hire and retain the very best technicians in the area, each of whom is extremely experienced working on all makes and models of air conditioning systems. Customers can receive the following and more:
From repairing or replacing your thermostat and repairing your existing system to providing expert maintenance, top installations, and everything in between, we can handle it all at Bruce Jones Air.
Schedule your service today!
The Difference with Bruce Jones Air Conditioning
Our team is 100% committed to your satisfaction. We strive to ensure that you are informed and satisfied at every stage of service – from the moment you pick up the phone and speak to our customer service team to the moment our technicians drives away from your property after completing an efficient service on your system. We will always do everything in our power to get the job done right – and get it done quick – so that you can get back to your daily life.
We are proud to serve residents and businesses in Tampa, Seffner, Northdale, Riverview, Valrico, and the neighboring cities and regions throughout Central Florida. If you need to schedule an air conditioner service or want to inquire about a new AC system, please contact us today to speak to our team.