HVAC Repair in Tampa, Plant City, Brandon, New Tampa, Wesley Chapel & Nearby Cities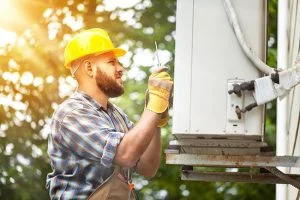 Now is a good time to set up your annual air conditioning system inspection and HVAC repair. Don't wait until too late, and your system has suffered a total breakdown. You want your home to stay as cool as possible all year 'round.
When a system breakdown does occur, you don't want to have to wait days on end for central air repair. That's why savvy, local residents are calling our residential HVAC contractors now to schedule a service call before system issues arise.
Preventative Maintenance Saves Homeowners Money
When it comes to AC repair or central air repair, you want to have efficient, trustworthy and knowledgeable technicians working on your home's cooling system. Our well-trained staff can help you save money by fixing minor problems before they turn into big headaches. Bruce Jones Air Conditioning & Heating AC repair personnel work 12 months out of the year to keep Florida residents cool and comfortable. Here on Florida's west coast, it's always air conditioning season for homeowners, and we are ready to respond to your cooling and air conditioning needs.
Replacing a central air conditioning system is usually a costly and unexpected expense. By scheduling annual preventive maintenance check-ups, you can extend the life of your cooling system and know when it will soon be time to budget for a major AC repair or new cooling system purchase.
Financing Available to Many Customers
If your system is in need of replacement and a new heating and cooling system is not in your family's budget, we can help. We offer monthly financing so that our customers don't get hot under the collar in the middle of the hot, humid Florida weather. Our online application process is both secure and private, and you can quickly get a financing decision. Most local companies don't offer their qualified customers 0% financing options, but we make sure that we always go the extra mile and exceed our customers' expectations for superior customer service.
Schedule HVAC Repair & Maintenance Today
Don't get stuck without air conditioning in the relentless heat and humidity. Call the most preferred air conditioning company in town! If you are experiencing damage to your air conditioning unit, contact us for all your HVAC repairs in Tampa, Plant City, Brandon, New Tampa, Wesley Chapel and nearby cities.