Central Air Repair for Those in Tampa, Plant City, Brandon, New Tampa, Lutz & Surrounding Areas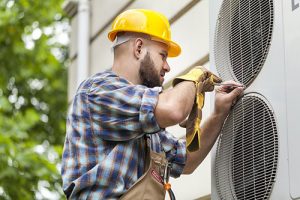 Homeowners, is your central air conditioning unit on its last legs? Are you trying to eke out another season with a central air repair instead of replacement? It's certainly understandable to choose AC repair, especially when your favorite heating and air conditioning companies are on speed dial for when your sluggish AC unit quits.
In some areas of the country, having a central air conditioning unit in the home is considered to be a luxury, but for Florida residents who put up with almost unrelenting year-round high temperatures and humidity, having central air conditioning is mandatory.
Your Comfort is Our #1 Concern
At Bruce Jones Air Conditioning & Heating, we know that our loyal customers depend on us for all of their AC repair and residential heating and cooling repair needs, and there are some individuals among us who are particularly vulnerable to becoming overheated. According to the Centers for Disease Control and Prevention (CDC), the segments of the population most at risk of heat-related complications when the mercury rises include:
The Elderly
Babies and Young Children
Those Living with Chronic Illnesses
While these individuals are at the most risk in the event of an AC breakdown, everyone suffers when there is a need for central air repair services. Even our companion pets' health suffers if they can't cool down in the heat.
We Can Keep Your Central Unit Chugging for Another Season
Some heating and air conditioning companies will try to sell their customers new central air conditioning units when the air conditioning systems they already own can be easily fixed. Our talented technicians know how to keep our customers' air conditioning systems working for years to come.
In the event that your unit is beyond repair, we may be able to help you get financing by completing a short online application.
Which Company Should You Trust for AC Repairs?
Bruce Jones Air Conditioning & Heating is the best AC company to trust. Our service technicians will check your central air system with gauges to give you an accurate assessment of its viability. Residents in Tampa, Plant City, Brandon, New Tampa, Lutz and surrounding cities are encouraged to contact us today to schedule central air conditioning repair services, request an AC maintenance tune-up or get quotes on a new system replacement. We look forward to serving you!