HVAC Companies Serving Tampa, Plant City, Brandon, Seffner, Carrollwood & Surrounding Cities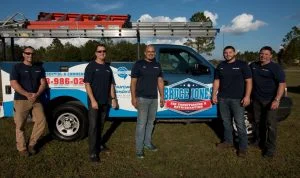 There may be several local HVAC companies serving the Tampa Bay area, but only one will provide you with the top-quality service and support you deserve - Bruce Jones Air Conditioning & Heating. For years, we have been providing residential customers throughout Central Florida with the top-quality home air conditioner repair they need to stay cool throughout the year, and we are standing by ready to serve you!
One of the Area's Leading HVAC Companies
Homeowners prefer Bruce Jones Air Conditioning & Heating because we have a full service offering, prompt response times, and superior workmanship. We leave no stone unturned when it comes to installing, servicing, and repairing residential HVAC systems, and our highly-skilled technicians are experienced with both new and late model systems.
Home Air Conditioner Repair - If your AC unit is no longer functioning or you are noticing it is running longer to keep your home cool, give our team a call and schedule an AC repair service. We can quickly dispatch a technician to your home to diagnose and repair a wide range of HVAC issues.
AC Maintenance Services - Keep your AC system running year 'round by scheduling regular AC maintenance services. During your maintenance call, our technicians will inspect the system in its entirety to ensure that all components are working correctly. If any minor issues are detected, we will notify you of our findings and allow you the opportunity to request repairs before more significant issues arise down the road.
AC Installation - Have a new property? An outdated unit? Not a problem. Bruce Jones Air Conditioning & Heating gladly offers best-in-class AC installation services for both new and existing properties. We are also pleased to offer AC financing opportunities for qualified homeowners.
Heating - You might not need your heater often, but when you do, you want it to work. If you turn on your heater and notice any issues, contact our team to schedule a heating service. We can quickly and easily locate the problem with your current heating system, make recommendations to avoid issues in the future, and complete repairs to keep you warm when you need it most.
If you are looking for HVAC companies that serve residents of Tampa, Plant City, Brandon, Seffner, Carrollwood, or the surrounding cities, stop your search at Bruce Jones Air Conditioning & Heating. We are one of the best commercial HVAC companies and residential HVAC contractors in the area. Whatever your heating and cooling service needs, we look forward to serving you. Contact us today to schedule your service call!