Heating & Air Conditioning Companies in Tampa, Plant City, Brandon, Wesley Chapel, Lutz & Other Cities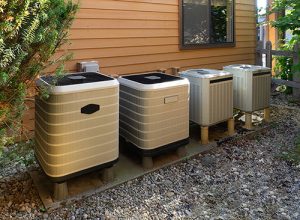 When searching for reliable heating and air conditioning companies on Florida's Gulf Coast, you want to choose a reputable HVAC repair business with experienced technicians to service your heating and cooling system.
Florida residents deal with year-round heat and humidity, which strains the central AC units cooling their homes. The reason is simple. Higher humidity levels cause central air units to work hard to cool residences. If the unit cooling your home is outdated or improperly maintained, it can't keep up with the demand, and the air inside your home will retain moisture and stay too warm.
Air Conditioning Units – Bigger Is Not Always Better
Before calling all the heating and air conditioning companies in your area to locate and purchase the most expensive central AC unit you can afford, consider that a more expensive unit will not necessarily cool your home better. Ask the HVAC repair technicians at Bruce Jones Air Conditioning & Heating to determine the optimal central air conditioning unit needed to keep your home cool and comfortable even during the hottest months in Florida.
We strive to be industry leaders among Florida's heating and cooling businesses. That is why the HVAC repair and maintenance personnel at Bruce Jones Air Conditioning & Heating would never try to sell a customer a more expensive heating or cooling unit than they need to meet their needs. We understand that a central air conditioning unit is a major purchase and want to help our customers stay cool all year long.
Ask About Our Financing Terms
Few homeowners can come up with the cash to purchase a new central air conditioning unit at a moment's notice. But if you are just limping along with an old, inefficient model that barely cools your home, it may be time to treat yourself and your family to a new, energy-efficient model. We offer financing options, and you can fill out an online application to see if you qualify.
When looking for heating and air conditioning companies in Tampa, Plant City, Brandon, Wesley Chapel, Lutz or nearby cities, contact Bruce Jones Air Conditioning to meet all of your residential heating and cooling needs.