Air Conditioning Repair in Tampa, Plant City, Brandon, Seffner, Sun City & Surrounding Cities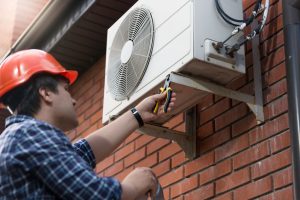 When you need air conditioning repair for your home or office, you need Bruce Jones Air Conditioning & Heating. One of the top-rated ac repair companies in Central Florida, we offer unmatched service and support on a wide range of system makes and models, and we provide our customers with a comprehensive service offering to keep them covered all year long.
Air Conditioning Repair
Bruce Jones Air Conditioning & Heating is proud to offer top-quality AC repair on nearly any AC system. Whether your unit is decades old and needs a complete system diagnosis or you have a unit that is fairly new and simply needs a little TLC, we can help. We have a team of technicians that are highly skilled and experienced, and they will work quickly to diagnose and repair your unit to keep you cool and comfortable.
We provide a broad range of AC repair services and can repair refrigerant leaks, faulty coils, compressor issues, drainage problems, and more. We work hard to ensure that the job is always done right the first time, and our technicians will arrive on time – every time.
AC Maintenance
To avoid costly repairs down the road, we recommend that each of our customers regularly maintain their units. Regular maintenance services help us find potential problems early on and keep your system operating at optimal levels. By opting for regular service, you can often decrease or eliminate future HVAC repair costs, extend the life of your AC system, and keep your property at optimal temperatures regardless of external weather conditions.
New System Installations
In the rare case that your system is beyond air conditioning repair, we also offer top-notch installations. At Bruce Jones Air Conditioning & Heating, you can depend on us to only recommend the very best products so that your next investment will be one that lasts. We are also one of the few local air conditioning companies to offer 0% financing opportunities to qualifying customers, so you can replace your unit even if you don't have the funds to purchase your new system out of pocket.
If you live or work in Tampa, Plant City, Brandon, Seffner, Sun City, or the surrounding cities and need air conditioning repair, maintenance, or installations, turn to the experts trusted by more Central Florida home and business owners – Bruce Jones Air Conditioning & Heating. Contact us today to schedule your home air conditioner repair and see why we are one of the preferred AC companies in your local area.