Air Conditioner Maintenance in Tampa, Plant City, Brandon, Bloomingdale, Valrico & Surrounding Cities
Regular air conditioner maintenance is one of the best ways for you to reduce AC repair costs and prolong the life of your existing HVAC system, and at Bruce Jones Air Conditioning & Heating, we offer a wide range of AC maintenance services to better meet your needs.
Air Conditioner Maintenance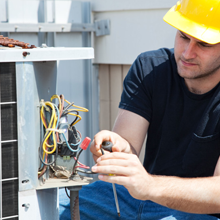 AC maintenance is a heating and cooling service that you can't afford to skip. Regular visits from a reputable air conditioning technician can help you diagnose small issues before they lead to more costly repairs down the road. By addressing smaller issues promptly, your system will be under less stress and, most likely, go longer time periods between major repairs or replacements.
Typically, our AC maintenance plans includes:
Tightening/Inspecting Electrical Connections
Checking/Refilling Refrigerant
Removing Debris from External Unit
Testing Thermostat
Inspecting System Efficiency
and More!
When you choose Bruce Jones Air Conditioning & Heating, your AC maintenance service may include all of the above services and more, depending on your current system needs. Speak to us today about specials and discounts that may be available or schedule your next maintenance service today!
Additional HVAC Services
Bruce Jones Air Conditioning & Heating can also assist with any new AC system purchases, including AC financing, AC system replacements, AC repairs, heating repairs, and more. We are a full-service HVAC service and repair company that offers a broad assortment of heating and cooling service options. We have products and systems to meet a wide range of budgetary needs and offer top-quality products like American Standard, RUUD, and others.
If you need air conditioner maintenance in Tampa, Plant City, Brandon, Bloomingdale, Valrico, or any of the surrounding cities or have any other HVAC needs, contact our HVAC experts today for more information about any of our products or services. We are one of the most recommended HVAC providers in Central Florida, and our team looks forward to serving you!