AC Maintenance in Tampa, Brandon, Carrollwood, Riverview, Seffner & Beyond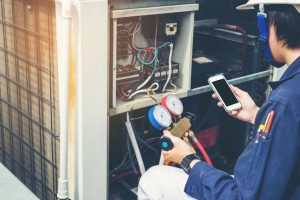 Our bodies, cars, houses, pools, lawns, and computers all need regular maintenance to stay in top shape, and the same principle applies to your AC system and other major appliances. In fact, the best way to extend the life of your AC system is to schedule regular AC maintenance and complete small repairs while they are just that – small.
Benefits of Regular A/C Maintenance Services
Whether you recently hired us for a new AC installation or have had the same AC unit for the last decade, you can benefit from beginning a regular maintenance schedule. Regular maintenance ensures that your system isn't bogged down by unwanted debris or contaminants and can help your technicians locate smaller issues with mechanical components before they have caused more significant system damage down the road. As a result, most home and business owners who opt for AC maintenance services save money by delaying or avoiding major repairs and extend the life of their systems – saving them money on replacement costs in the future.
What Is Included?
When you hire Bruce Jones Air Conditioning & Heating for your maintenance services, you can receive the following and more:
Examination & Testing of Electrical Connections
Testing of Voltage and Amperage for Motors & Controls
Air Flow Measurement
Drain Line Cleaning
Lubrication of Moving Components
Thermostat Calibration Testing
Inspection of Exterior Ductwork
Ignition Assembly Cleaning
What each system needs will vary from home to home or business to business, but we have flexible options to meet your needs. After an examination of your system, we can help you determine the maintenance option that's best for you.
Repairs Available
We can provide both AC repairs and heating repairs, so if an issue is diagnosed during your maintenance call, we'll almost always have the parts and equipment on hand to repair it the same day.
If you need AC maintenance, AC installation services, AC repairs, or any other heating or cooling services at your home or business in Tampa, Brandon, Carrollwood, Riverview, Seffner, or beyond, contact us today for quotes or to schedule service. We look forward to serving you!