Central Air Conditioning Repair in Tampa, Plant City, Seffner, Carrollwood, Riverview & Surrounding Areas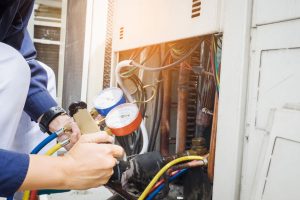 Your central air conditioning system is one of the most important appliances you can purchase for your home or business, and it's equally important for you to keep up with its maintenance and repair. Meeting the needs of your system, as small problems arise, can help you save time, money, and hassle down the road. At Bruce Jones Air Conditioning & Heating, we offer central air conditioning repair, maintenance, installation, and more. And – our prices are some of the best in town!
Only the Best Central AC Repair
Our air conditioning repair service offering is comprehensive and top-rated. Our customers know that they can count on us whenever they need any HVAC service for their home or business. For decades, we have offered our customers everything they need, from AC repairs and maintenance to installation, heating repairs, and much more, and you won't find a team that's friendlier or more professional than ours.
Quick Scheduling – Our customer service team will work quickly to get you the answers you need for any of your service or equipment questions. We can provide quotes, schedule appointments, and offer service details and pricing. Simply call us today to get started!
Prompt Arrivals – Your Bruce Jones' technician will always arrive on time for your appointment. We understand that your time is valuable, and we won't leave you waiting for us!
Complete & Accurate Repairs – We leave no stone unturned when we repair your HVAC system. Your air conditioning repair service is only complete when you are 100% satisfied and your system is operating as it should be.
Ongoing Maintenance – We can keep your system in peak condition with regular maintenance service calls. These visits allow us to inspect your system and find small problems before they become a major headache down the line.
Best-in-Class Installation – Whether you are building a new home or replacing an outdated system, you won't find better AC products anywhere else. And, we have the skill and experience to offer top-of-the-line installations on nearly any make or model.
There isn't much we can't do at Bruce Jones Air Conditioning & Heating, so if you need central air conditioning repair in Tampa, Plant City, Seffner, Carrollwood, Riverview, or any of the surrounding areas, contact us today. We look forward to serving you!