Purchase Your New American Standard HVAC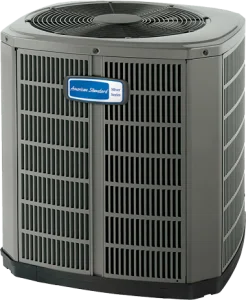 Bruce Jones Air Conditioning & Heating is proud to bring our customers the finest quality products and HVAC solutions. That's why we often recommend American Standard HVAC equipment to our residential and commercial customers. American Standard has led the AC industry for over 100 years with top-quality equipment designed to increase comfort and improve air quality. If you are considering purchasing a new HVAC system, speak to our experts today. We are one of the area's leading heating and cooling companies, and we look forward to serving you.
Call now to connect with our team!
An American Standard HVAC Can Make All the Difference
If you are looking for an energy-efficient HVAC system, we have the equipment you need. American Standard is a world-renowned manufacturer and brings new and innovative systems to the market every year. Their equipment not only delivers top performance, efficiency, and durability, but it can remove 99.98% of allergens that enter your system to help ensure that your family, employees, and guests can always breathe in the best air possible.
Best Quality Parts
Require Fewer Repairs
Built to Withstand Florida Heat
Can Stand Up to Frequent Rain Showers
For more information about an American Standard AC system or help with selecting the right model for your home or business, please call us today!
American Standard HVAC Equipment for Tampa Homes & Businesses
Bruce Jones Air Conditioning & Heating has been serving customers throughout the Tampa Bay area for years. We have helped hundreds of families and businesses in Tampa, New Tampa, Carrollwood, Brandon, Apollo Beach, and the surrounding areas - and we stand ready to provide you with the unmatched service and support you deserve. If you are considering new American Standard HVAC equipment or need maintenance and repairs on your existing equipment, please contact our team today for immediate assistance.