AC Tune Up in Tampa, Seffner, Northdale, Riverview, Valrico & Nearby Areas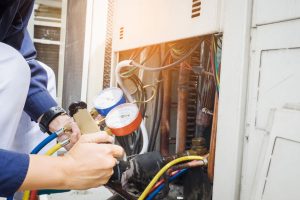 Sometimes, all your AC system needs is a little TLC. AC maintenance services are ideal for homeowners across the world because they can help keep repair costs low by addressing minor issues immediately – instead of waiting for system errors and breakdowns. At Bruce Jones Air Conditioning & Heating, we can offer you an AC tune up to keep your system running optimally for months and years to come.
Schedule an AC Tune Up to Keep Your Upkeep Costs to a Minimum
AC systems that aren't regularly inspected often end up breaking down, and by that point, the AC repairs can be costly. Keep your costs down by scheduling an Air Conditioner tune-up by Bruce Jones Air Conditioning & Heating. Our AC maintenance service is thorough and detailed and will enable our experienced technicians to locate small system issues while they are easy to repair.
If you schedule annual or semi-annual maintenance, you can often avoid major AC repairs altogether and, better still, extend system life. And, at Bruce Jones Air Conditioning & Heating, we have AC maintenance options to meet nearly any budget.
Trust Our Experts for Any AC Job
We are proud to employ some of the region's top AC experts, and each of our technicians really knows their stuff. They have extensive training and experience and display a level of skill unmatched by those at other area AC companies.
In addition, they are truly committed to your satisfaction. At every step of the way, they will ensure that you are satisfied with our service, and you can count on us to work efficiently and professionally throughout your service call.
Competitive Rates on a Full Range of Services
Bruce Jones Air Conditioning & Heating is pleased to offer all of our top-rated services at competitive rates. We strive to keep our costs fair and reasonable without ever sacrificing the quality of your service or repairs. We can offer you and your family everything you need, from repairs and maintenance to installations, heating, and more.
If you need to schedule an AC tune up or have any other AC needs at your home in Tampa, Seffner, Northdale, Riverview, Valrico, or the nearby areas, contact our team today to schedule service or request quotes. We look forward to serving you!