AC Repairman Serving Tampa, Brandon, Carrollwood, Riverview, Seffner & Neighboring Areas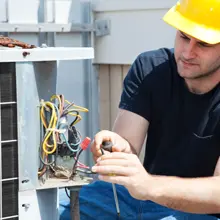 When you find yourself in need of AC services, don't hire just any AC repairman. Ensure you receive the best service possible by choosing a reputable name like Bruce Jones Air Conditioning & Heating. For years, we have offered residential customers throughout Tampa Bay the services that they need to stay cool, including AC repairs, AC installations, AC maintenance, and more, and our team is ready to serve you.
Choose a Licensed & Local Repair Company for an AC Repairman You Can Trust
Too often, homeowners try to cut costs by opting for underqualified AC repairmen for their home AC repairs and service. Unfortunately, this often leads to wasted time and money – with service providers walking off the job, completing only partial repairs, cutting corners, or taking the money to run. Luckily for Central Florida homeowners, Bruce Jones Air Conditioning & Heating has an excellent reputation for providing thorough AC installations, repairs, and maintenance, and our prices are some of the most competitive rates in town.
At Bruce Jones Air Conditioning & Heating, our AC repairmen are highly-qualified and experienced. Each has the training and skill required to expertly complete nearly any AC service, and our team is equipped to handle all makes and models, including those from American Standard, RUUD, and others.
You can count on us for top-quality:
Whether you need a thermostat replacement or want to start over with an innovative, energy-efficient model, our team can help. We can offer you resources and recommendations that you won't find anywhere else, and our team will never lead you astray with unnecessary products or services. Instead, we take the time to educate our customers to ensure they have all the information that they need to make the right decisions for their home and family.
Bruce Jones Air Conditioning & Heating is glad to serve residents of Tampa, Brandon, Carrollwood, Riverview, Seffner, and the neighboring areas, so if you need an AC repairman, contact us today to speak to our team and schedule your first appointment. We are Tampa's AC experts, and we can have a factory-trained technician to your door FAST.