American Standard AC Systems Are the Best for Reliability & Performance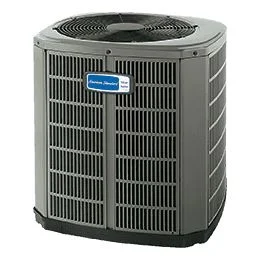 If you are looking for a new AC system, American Standard systems might be the best bet. American Standard equipment is some of the most advanced on the market and effectively removes up to 99.98% of allergens that make their way into your system - improving health and comfort for anyone at your home or commercial business. Bruce Jones Air Conditioning & Heating is an American Standard Customer Care dealer that can help you choose the best American Standard central air conditioner for your family or business - and we offer our equipment at affordable, competitive rates.
Call now for more information!
Get Your American Standard AC Equipment & Services from Bruce Jones Air
Bruce Jones Air Conditioning & Heating can offer you new American Standard air conditioning equipment and install it at your home or small business - and we can provide qualifying customers with system financing options, as well. American Standard equipment is durable and efficient, and your family or business can take control of your comfort with a new system built just for you. Call now for equipment selection assistance and pricing.
Already have an American Standard system? We can provide you with all of the support you need. We complete AC system repairs on all American Standard systems, as well as equipment made by other top brands. We can also offer you AC system maintenance to help you keep your system running well - and for longer. Schedule your service today!
AC System Support & Services for Customers Across Tampa Bay & Beyond
The expert technicians at Bruce Jones Air Conditioning & Heating can provide system support and services for customers in Tampa, Riverview, Apollo Beach, Bloomingdale, Plant City, and the surrounding regions throughout Tampa Bay. If you are looking for equipment sales or services from American Standard AC dealers, please contact us today.