A/C Repair in Apollo Beach & Beyond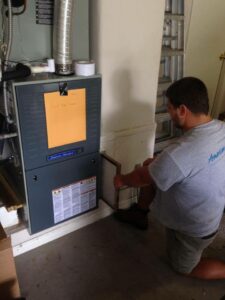 If you are located in or near Apollo Beach, FL, and need A/C repair services at your home or business, our experts are the team to call. Bruce Jones Air Conditioning & Heating has served home and business owners throughout the region for years, and our family-owned and operated business will provide you with the top-quality service you deserve. We are one of the most highly rated A/C companies in the region, with a full service offering, top-rated customer service, and great, competitive rates. Speak to our team today to learn more or request service.
Call now to speak to our HVAC experts!
Schedule Your A/C Repair Services with Our Team
We simplify AC repair and maintenance scheduling by offering telephone assistance, as well as online scheduling. Once you connect with us, we work quickly to get the help that you need. Our customer service team is extremely knowledgeable and know what questions to ask to ensure that you receive the best recommendations and support. They will work with you on scheduling to ensure that your technician can be at your property when it's most convenient for you and your family or business.
We can repair a wide range of AC system problems, including broken systems, systems that won't shut off, inaccurate air temperatures, inefficient operation, and much more. Our technicians can also repair, maintain, and install any system – regardless of age, model, or brand – and as an American Standard Customer Care Dealer, you can rely on us for expert results.
We Offer AC Services & Repairs Throughout Central Florida
Our team can serve home and business owners throughout the Tampa Bay area, including those in Apollo Beach, Tampa, Riverview, Bloomingdale, Plant City, and beyond. If you are looking for top-quality A/C repair from a trusted team near you, please contact us today!